In a small village, a girl lives with her mother. The girl is very beautiful. Everyday she puts make-up and wears her best clothes. She doesn't like to help her mother work in a field. The girl is very lazy
One day, the mother asks the girl to accompany her to go to the market to buy some food. At first the girl refuses, but the mother persuades her by saying they are going to buy new clothes. The girl finally agrees. But she asks her mother to walk behind her. She doesn't want to walk side by side with her mother. Although her mother is very sad, she agrees to walk behind her daughter.
On the way to the market, everybody admires the girl's beauty. They are also curious. Behind the beautiful girl, there is an old woman with a simple dress. The girl and her mother look very different!.
"Hello, pretty lady. Who is the woman behind you?" asks them.
"She is my servant," answers the girl.
The mother is very sad, but she doesn't say anything.
The girl and the mother meet other people. Again they ask who the woman behind the beautiful girl. Again the girl answers that her mother is her servant. She always says that her mother is her servant every time they meet people.
At last, the mother cannot hold the pain anymore. She prays to God to punish her daughter. God answers her prayer. Slowly, the girl's leg turns into stone. The process continues to the upper part of the girl's body. The girl is very panicky.
"Mother, please forgive me!" she cries and ask her mother to forgive her.
But it's too late. Her whole body finally becomes a big stone. Until now people still can see tears falling down the stone. People then call it the crying stone or batu menangis.
Terjemahan Batu Menangis dalam Bahasa Inggris


Di sebuah desa kecil, seorang gadis tinggal dengan ibunya. Gadis itu sangat indah. Setiap hari ia menempatkan make-up dan mengenakan pakaiannya yang terbaik. Dia tidak ingin membantu ibunya bekerja di lapangan. Gadis itu sangat malas.
Suatu hari, ibu meminta gadis itu untuk menemaninya pergi ke pasar untuk membeli makanan. Awalnya gadis itu menolak, namun sang ibu membujuk dengan mengatakan mereka akan membeli pakaian baru. Gadis itu akhirnya setuju. Tapi dia meminta ibunya untuk berjalan di belakangnya. Dia tidak ingin berjalan berdampingan dengan ibunya. Meskipun ibunya sangat sedih, ia setuju untuk berjalan di belakang putrinya.
Dalam perjalanan ke pasar, semua orang mengagumi kecantikan gadis itu. Mereka juga penasaran. Di balik gadis cantik, ada seorang wanita tua dengan gaun sederhana. Gadis dan ibunya terlihat sangat berbeda!
"Halo, cantik wanita. Siapa wanita di belakang Anda?" meminta mereka.
"Dia adalah hamba-Ku," jawab gadis itu.
Ibu ini sangat sedih, tetapi dia tidak mengatakan apa-apa.
Gadis itu dan ibu bertemu dengan orang lain. Sekali lagi mereka meminta siapa wanita di belakang gadis cantik. Sekali lagi gadis itu menjawab bahwa ibunya adalah pelayannya. Dia selalu mengatakan bahwa ibunya adalah hamba setiap kali mereka bertemu orang.
Akhirnya, ibu tidak bisa menahan rasa sakit lagi. Dia berdoa kepada Tuhan untuk menghukum putrinya. Tuhan menjawab doanya. Perlahan-lahan, kaki gadis itu berubah menjadi batu. Proses berlanjut ke bagian atas tubuh gadis itu. Gadis itu sangat panik.
"Ibu, maafkan aku!" dia menangis dan meminta ibunya untuk memaafkannya.
Tapi itu sudah terlambat. Seluruh tubuhnya akhirnya menjadi batu besar. Sampai sekarang orang masih bisa melihat air mata jatuh batu. Orang-orang kemudian menyebutnya batu menangis atau batu Menangis.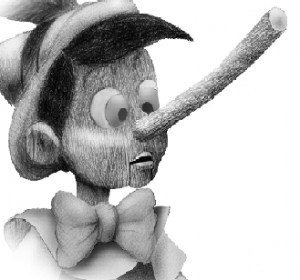 The Real Story of Pinocchio
Once upon a time, Gepetto, an old woodsman, living in the great Italian pine forest, was lonely. He always dreamed about having a son.
Each day, he went cutting woods for the town's people. One day, an idea illuminated his mind, the idea of crafting a puppet, which he will call it Pinocchio. He crafted that puppet and during the night, the puppet becomes alive!
One year of happiness and thriller passed, on a Sunday morning, Gepetto told Pinocchio:
''It's my birthday soon, my little son! I hope you didn't forget it!''
''Euh, sure, I didn't!''
Pinocchio felt awkward. He didn't thought about that. Gepetto's birthday was coming in only three days, and he hadn't even a present.
After a long night of reflecting, Pinocchio finally decided to offer a homemade chocolate cake to him as a present.
When the sun rose, Pinocchio was already ready to go outside find the ingredients. The main problem was he didn't even known the in and the recipe.
So after school, he decided to go ask someone for the ingredients to bake a cake. During his walk, Pinocchio, the wooden puppet, met the town's sorcerer.
''Hey, little boy, do you need some help for your chocolate cake?''
''Hum…You can help me?'', asked Pinocchio.
''Sure, I can. Follow me!''
After walking few minutes so, Pinocchio saw a big, big, big candy house. They entered together and Pinocchio got caught by a big cage.
''Mouahahaha!!! I finally caught you! You'll be mine, you're gonna work for me!'', said the evil sorcerer.
Pinocchio was so scared. When the guards came and took him out of the cage, he immediately ran away very fast and he succeeded to escape.
At the same time, the evil sorcerer, calling all his troops with him, ran after him and he took out his magic wand. The evil devil changed the little wooden puppet into a chocolate cake!
When he came back home, he told the entire story to his father and they went to find the god fairy.
After a long trip, they finally find the god fairy and they got the magical potion for Pinocchio.
Terjemahan Cerita Pinokio dalam Bahasa Inggris
Sekali waktu, Gepetto, seorang penebang kayu tua, yang tinggal di hutan pinus besar Italia, merasa kesepian. Dia selalu bermimpi tentang memiliki anak.
Setiap hari, ia pergi memotong kayu untuk orang-orang kota. Suatu hari, ide muncul di pikirannya, ide membuat boneka kayu, yang ia akan menyebutnya Pinokio. Ia telah membuat boneka itu dan pada malam hari, boneka tersebut hidup!
Satu tahun kebahagiaan dan film thriller berlalu, pada hari Minggu pagi, Gepetto mengatakan Pinokio:
" Ini hari ulang tahunku, anak kecilku! Aku harap kamu tidak lupa!"
" ya, tentu, aku tidak akan melupakan!"
Pinocchio merasa canggung. Dia tidak memikirkan hal itu. ulang tahun Gepetto atang hanya tiga hari, dan dia bahkan tidak mempersiapkan hadiah.
Setelah sepanjang malam berpikir, Pinokio akhirnya memutuskan untuk menawarkan kue coklat buatan sendiri kepadanya sebagai hadiah.
Ketika matahari terbit, Pinokio sudah siap untuk pergi ke luar mencari bahan-bahan. Masalah terbesarnya ia bahkan tidak tahu bagaimana membuatnya dan resepnya.
Jadi sepulang sekolah, ia memutuskan untuk pergi bertanya kepada seseorang tentang bahan untuk memanggang kue. Selama berjalan-jalan, Pinokio, boneka kayu, bertemu dukun kota.
" Hei, anak kecil, apakah Anda membutuhkan bantuan untuk kue cokelat Anda?"
" Hum … Anda dapat membantuku?", Tanya Pinocchio.
" Tentu, aku bisa. Ikuti aku!"
Setelah berjalan beberapa menit sehingga, Pinokio melihat rumah permen yang sangaaaaat besar. Mereka masuk bersama-sama dan Pinokio tertangkap oleh kandang besar.
" Mouahahaha! Aku akhirnya menangkapmu! kamu akan menjadi milikku, kau akan bekerja untukku!", Kata penyihir jahat.
Pinocchio sangat ketakutan. Ketika penjaga datang dan membawanya keluar dari kandang, dia segera lari sangat cepat dan dia berhasil melarikan diri.
Pada saat yang sama, penyihir jahat, memanggil semua pasukannya dengan dia, berlari mengejar dia dan dia mengeluarkan tongkat sihirnya. Iblis jahat mengubah boneka kayu kecil menjadi kue cokelat!
Ketika ia kembali ke rumah, dia mengatakan seluruh cerita kepada ayahnya dan mereka pergi untuk menemukan peri dewa.
Setelah perjalanan panjang, mereka akhirnya menemukan peri dewa dan mereka punya ramuan ajaib untuk Pinokio.
akhir
cerita pinokio dalam bahasa inggris
ini bisa jadi pelajaran untuk anak-anak kita agar tidak mudah berbohong karena kebohongan mengandung konsekuensi buruk meskipun bukan dalam bentuk hidung kita yang akan panjang seperti
cerita pinokio dalam bahasa inggris
ini.
Cerita rakyat from West Java
Prabu Tapa Agung had led a kingdom in West Java for a long time. He was getting old and therefore wanted to choose a successor. But unfortunately, he had no son. He thought of choosing one of his daughters, Purbararang and Purbasari. But it wasn't an easy choice. They were both very pretty and smart. The only difference was their temperament. Purbararang was rude and dishonest, while Purbasari was kind and caring. With those considerations, Prabu Tapa Agung finally chose Purbasari to be his successor.
Purbararang didn't agree with her father's decision. "It's supposed to be me, Father. I'm the eldest daughter!" Purbararang said. Prabu Tapa Agung smiled. "Purbararang, to be a queen takes more than age. There are many other qualities that one must possess," explained Prabu Tapa Agung wisely. "What does Purbasari have that I don't?" Purbararang pouted. "You'll find out when Purbasari has replaced me," Prabu Tapa Agung answered.
After the discussion, Purbararang went back to her room. "Is there something wrong?" asked Indrajaya. Indrajaya is Purbararang's future husband. "I'm upset! Father chose Purbasari as his successor and not me! I have to do something!" Purbararang said. Driven mad by her anger, she came to a witch and asked her to send rash all over Purbasari's body. Before going to bed, Purbasari started to feel itch all over her body. She tried applying powder to her body, but it's no use. Instead, the itching grew even worse. She didn't want to scratch it, but she just couldn't help it. In the next morning, there were scratch mark all over Purbasari's body. "What happened to you?" asked Purbararang, pretending to be concerned. "I don't know, sis. Last night, my body suddenly felt very itchy. I scratched and scratched, and this is what happened," Purbasari answered. Purbararang shook her head. "You must have done something really awful. You've been punished by the gods!"
That day, the whole kingdom was scandalized. "What have you done, Purbasari?" demanded Prabu Tapa Agung. Purbasari shook her head. "I didn't do anything that would upset the gods, Father," she answered. "Then how can you explain what happened to your body?" Prabu Tapa Agung asked again. "If you don't confess, I'll banish you to the woods." Purbasari took a deep breath. "Like I said before, I didn't do anything wrong. And I'd rather be thrown into the woods than to confess to a deed I didn't commit."
After a short discussion with his advisor, Prabu Tapa Agung ordered Purbasari to be moved to the woods. Purbasari was very sad, but she couldn't do anything to defy her father's order. She was accompanied to the woods by a messenger. He built a simple hut for Purbasari. After the messenger left, suddenly a black monkey came to Purbasari's hut. He carried a bunch of bananas. From behind him, some animals looked on. "Are the bananas for me?' Purbasari asked. The black monkey nodded, as if he understood what Purbasari said. Purbasari took the bananas with pleasure. She also said thanks. The other animals that were looking on also seemed to smile. "Are you willing to be my friend?" Purbasari asked them. All the animals nodded happily. Although she was living by herself in the woods, Purbasari never lacked of supplies. Everyday, there were always animals bringing her fruits and fish to eat.
A long time had passed since Purbasari was banished to the woods, but her body still itched. At some places, her skin was even ulcerating. What am I supposed to do?" Purbasari sighed. The monkey who was sitting next to her stayed still, there were tears in his eyes. He hoped Purbasari would remain patient and strong.
One night, on a full moon, the monkey took Purbasari to a valley. There is a pond with hot spring water. The monkey suddenly spoke, "The water of this pond will heal your skin," he said. Purbasari was surprised, "You can talk? Who are you?" she asked. "You'll find out, in time," the monkey said. Purbasari didn't want to force the monkey. She then walked to the pond. She bathed there. After a few hours, Purbasari walked out of the pond. She was shocked to see her face reflected on the clear pond water. Her face was beautiful again, with smooth and clean skin. Purbasari observed her entire body. There were no traces of any skin ailments. "I'm cured! I'm cured!" Purbasari shouted in joy. She quickly offered thanks to the gods and also to the monkey.
The news of Purbasari's condition quickly spread to the kingdom, irritating Purbararang. She then accompanied by Indrajaya go to the woods to see Purbasari. Purbasari asked if she would be allowed to go home. Purbararang said she would let Purbasari return to the palace if Purbasari's hair were longer than hers. Purbararang then let her hair down. It was so long, it almost touched the ground. But it turned out that Purbasari's hair was twice longer than Purbararang's hair.
"Fine, so your hair is longer than mine." Purbararang admitted. "But there is one more condition you must fulfill, do you have a future husband who is handsomer than mine?" said Purbararang as she walked toward Indrajaya. Purbasari felt miserable. She didn't have a future husband yet. So, without much thought, she pulled the black monkey beside her.
Purbararang and Indrajaya burst out, but their laughter didn't last long. The monkey meditates and suddenly transformed into a very handsome young man, a lot more handsome than Indrajaya. "I'm a prince from a kingdom far away. I was cursed to be a monkey because of a mistake I committed. I could regain my true form only if there's a girl who would be willing to be my wife," said the young man.
Finally, Purbararang gave up. She accepted Purbasari as the queen, and also confessed everything she had done. "Please forgive me. Please don't punish me," Purbararang said, asking for forgiveness. Instead of being angry, Purbasari smiled. "I forgive you, sis," she said. Soon after, Purbasari become queen. Beside her was the handsome prince, the former monkey known as Lutung Kasarung.
See you again readers ❣️
Ada salam dari Taehyung buat yang baca🙄